New Parent Orientation (Oct 25, 2023)
Powerpoint Presentation - archived

This is a great read for new members to learn about the basic club policies.
How to watch and support your swimmer:
#1. Sometimes your swimmer will look great at practice and meets.
#2. Sometimes your swimmer will not swim best times at swim meets and make technical mistakes.
#3. They will try new things and work really hard.
#4. Sometimes they may look lost and uninspired.
Be understanding and always preach "I love to watch you swim"!
Parent Responsibilities:
Your swimmer is your responsibility until the swimmer arrives on deck and is with their coach.
Once they are with the coach they are our responsibility till the end of the practice.
Parents can watch practice from designated viewing areas but must remain off of the pool deck and refrain from communicating with their swimmer during the session to let the swimmer and coach do their jobs.
If your swimmer is ready, parents may also leave the facility during training time and are also encouraged to purchase a membership and do a workout of their own during sessions.
Once they are dismissed from practice they become your responsibility again.
Attendance
We have no official attendance requirement and we value variety in a child's life. We feel kids should be active on a daily basis so if you are missing a practice due to other commitments that is fine. We find improvement really takes off once you start to practice 3x/week and we have designed a seasonal plan to periodize the skills being taught so if you miss sessions you may miss critical skills prior to early season competitions.
Swim Meets
They cost extra. You need to sign up on the website before the deadline and close to or after the meet you will see a charge for the event on your account. The Club will recommend the swim meets your child is eligble to compete at. If in doubt please speak with your coach.


TRAINING FEES
Installments are a monthly payment plan for annual fees and are not equivalent to the value of training each month.These fees are not specific to the month in which they are paid as no months have an equal number of practices. Instead, some months have 1-2 weeks and others have 3-4+ weeks of training. In the end, each payment is an equal 1/10th of the annual training fee and equates to approximately 3 weeks of swimming costs.
Any member who joins or withdraws mid-season will have their fees prorated to the % of the season in which they are an active member
EQUIPMENT
GOGGLES
Not all goggles are made equal. $50+ goggles are not necessary. The $10 Walmart specials do not work. Goggles made for racing will always have a double strap or split strap to help keep the goggle secure on the swimmer's head. Younger swimmers may benefit from a goggle with a fixed nose piece but as time progresses most will move to a 'vanquisher' or socket goggle. Team Aquatics is the Keyano supplier of equipment. We will have recommended equipment on their website. Follow this LINK.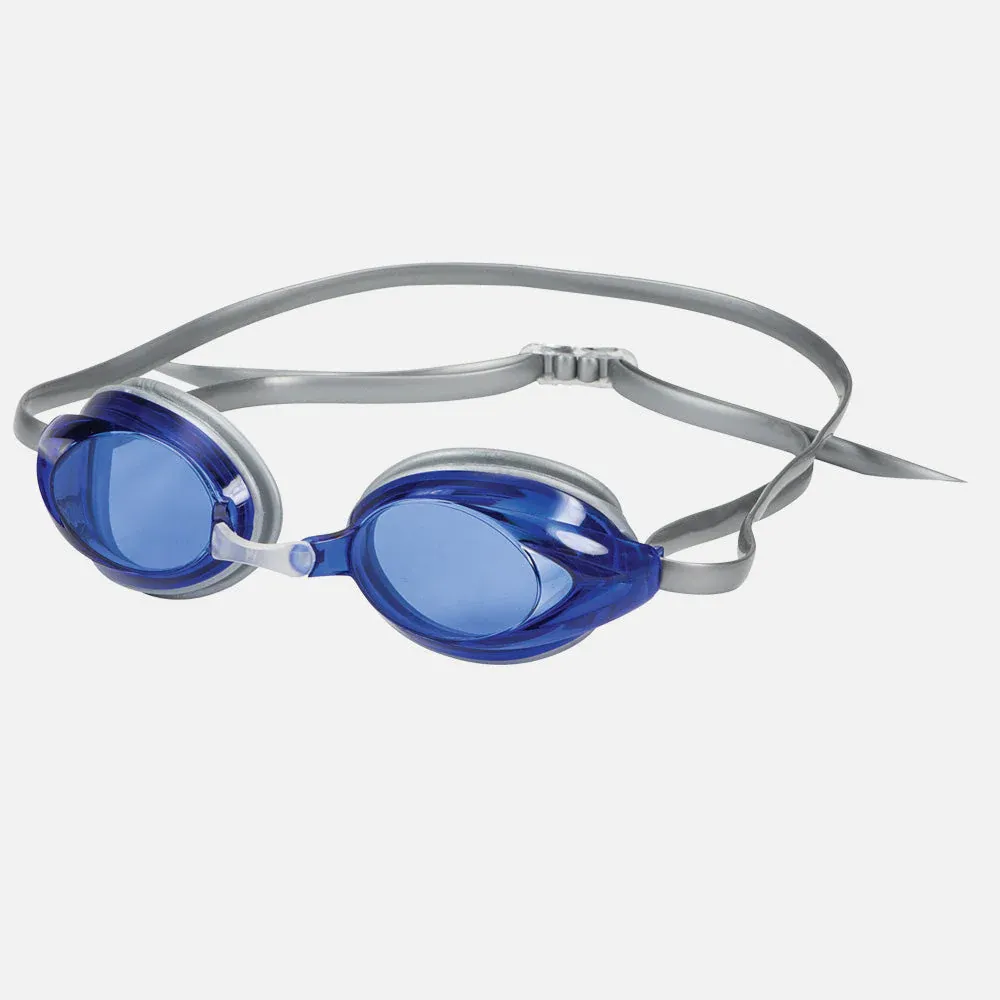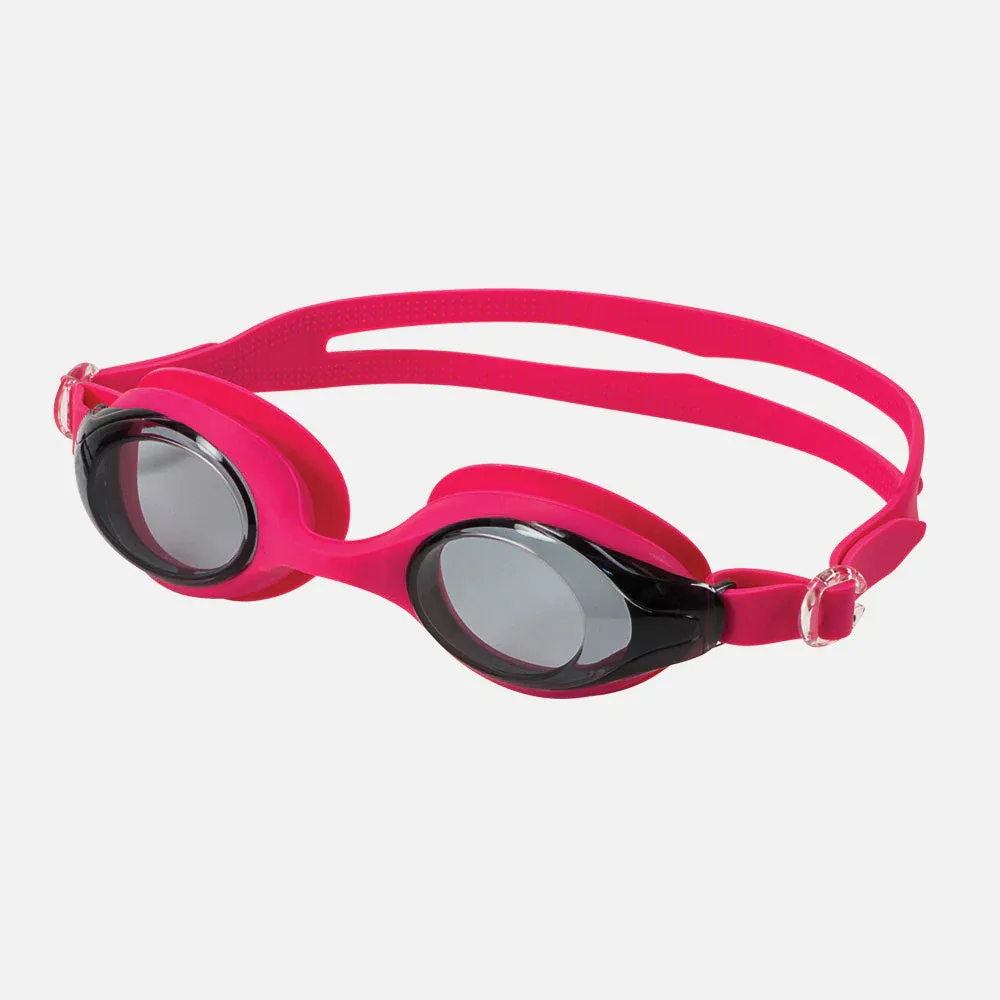 Left Photo: Double strap and interchangeable nose piece. Suitable style for intermediate swimmers
Right Photo: Split strap and fixed nose piece. Often more comfortable for very young swimmers.
SWIM SUITS
​​​​​​​ No, your swimmer will NOT grow into it! A snug fitting suit made primarily of polyester is what you want. It will not lose its shape and will most likely last the season. Boys may choose a jammer or a brief style suit (board shorts are not functional for swim training nor racing). Girls will generally wear a standard cut suit but there are some limited knee length suits which are available on the market that are reasonably priced.
​​​​​​​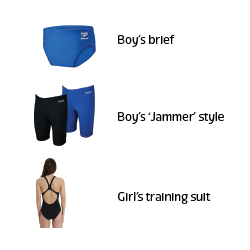 ​​​​​​​
RACE SUITS - What are these???
Talk to your coach before considering a race suit!!!!! No 12 years and under needs one but if they are at or approaching provincial times you could consider an entry level one but please talk with your coach first. Race suits look like a jammer/kneesuit but cost $80 - $800 each. They offer compression which can be of benefit to older atheltes.
​​​​​​​
SWIM CAPS
We don't have team suits, this is your team racing jersey so all swimmers should wear a Keyano swim cap. All swimmers with hair past their ears or eyebrows must wear one. Yes this includes practice. For swimmers who have not worn a cap before they take some getting used to so it is important to wear them in practice to get used to them. They also make learning fundamental skills like head position and breathing much easier.
OTHER EQUIPMENT/APPAREL
All swimmers will receive a team shirt to wear for dryland and at swim meets between races. Bronze and Silver swimmers also receive sticker charts to reward progress. A good swim bag is a great idea as is a mesh bag to keep track of your deck equipment. All swimmers need a kickboard and fins. Kickboards should be smaller and fairly rigid like the speedo junior. Fins should be comfortable, flexible and not too long. Other equipment is added as they get older. During the season we will put out orders for other optional team gear such as hoodies, parkas and backpacks. Please be on the lookout for emails regarding additional team uniform options.
MORE QUESTIONS?
Please follow this link which will provide you contact emails for group coaches and lead staff.